Towards A Self-Reliant Community
29 Nov 2016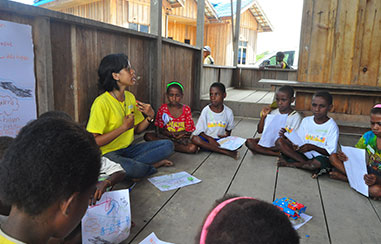 The program is called South Sorong Community Mentoring Program. Yayasan Indonesia Lebih Baik (YILB) and Yayasan Pengembangan Pendidikan dan Telematika Indonesia (YPPTI) created the program when they were challenged by PT Austindo Nusantara Jaya Tbk (ANJ) to propose a new approach to social investment. The approach was intended to be introduced in the ANJ palm plantation concession area in South Sorong, West Papua.
The Mentoring Program requires time before one sees the result. It entails sending mentors to the villages in the concession areas where they live with the community, introducing a clean and environmentally-friendly way of living, and building their capacity to become economically empowered. "A mentor is a motivator who facilitates the community for five to six years in a single phase. The motivator serves as a facilitator of change," said Ibrena Mery Sela Purba, the YLBI coordinator.
The program consists of three phases: First, building community trust . The mentors visit various community members: religious figures, youth, children, traditional leaders, and local female figures. Second, the mentors facilitate joint activities of all the community members. Third, the mentors create interaction among members to assemble their potential.
The mentors live alongside community members to absorb knowledge about the environment, culture, tradition, and behavior. The program is currently running in its first year. It is the mentors' role to assist the communities to recognize their potential, and then develop it in the form of programs that will be carried out by the communities with the help from their mentors. "Since the objective is to create a self-reliant community, any program identified by mentors is discussed again with the community," said Ibrena.
Other Articles
Green Schools in Belitung
28 Nov 2016
As a company that is committed to elevating people's lives, PT Sahabat Mewah dan Makmur (SMM) values education as a basic foundation to build an ideal community. It also aligns with the Company's mission to empower the community as equal partners.
Joyful Yunus Goes to School
22 Nov 2016
Apart from providing health services and organic farming training, PT Austindo Nusantara Jaya Tbk (ANJ) also provides a learning facility for pre-school children in Sorong, West Papua, called Robate Day Care.
Education for A Brighter Future
17 Nov 2016
School is a luxury in the village of Saga, Metamani District, South Sorong, West Papua. In this village most children drop out of school after completing elementary or junior high school.