Green Schools in Belitung
28 Nov 2016
As a company that is committed to elevating people's lives, PT Sahabat Mewah dan Makmur (SMM) values education as a basic foundation to build an ideal community. It also aligns with the Company's mission to empower the community as equal partners.
ANJ's Sustainability Director, Sonny Sukada, said that education is the main issue in Belitung, SMM's concession area. The Community Involvement and Development (CID) Department has created short and long-term educational programs.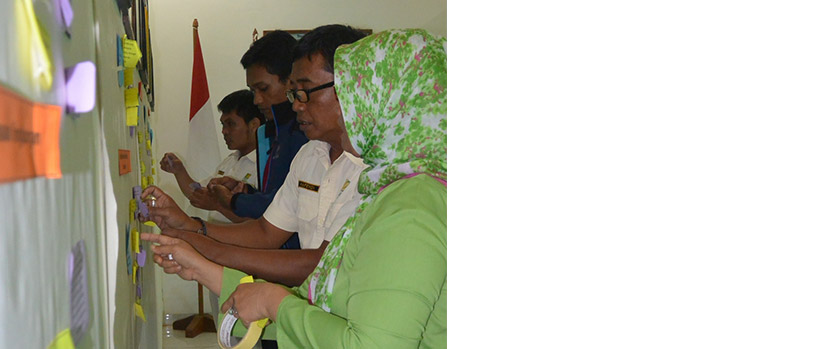 Green School is classified as a flagship program and in Belitung, the Company chose SMP Negeri 1 Dendang. Green School, known as Adiwiyata School, is a program implemented by The Ministry of Environment and Forestry in cooperation with The Ministry of National Education since 2005.
The Green School Program of SMP Negeri 1 Dendang started in early 2016. There are four basic elements of the program: policy creation that takes environmental considerations into account, implementation of environment-based curriculum, development of participatory environmental activities, and management of environmentally-friendly supporting facilities.
On 8 November 2016, the Environment and Forestry Agency and the Education Agency of East Belitung Regency assessed the Adiwiyata criteria in all schools in East Belitung Regency. SMP Negeri 1 Dendang was rated as meeting the minimum criteria for regency-level Adiwiyata standards. The Company also found it encouraging that a number of schools have visited SMP Negeri 1 Dendang to learn the process of meeting the Adiwiyata standards.
Other Articles
Towards A Self-Reliant Community
29 Nov 2016
The program is called South Sorong Community Mentoring Program. Yayasan Indonesia Lebih Baik (YILB) and Yayasan Pengembangan Pendidikan dan Telematika Indonesia (YPPTI) created the program when they were challenged by PT Austindo Nusantara Jaya Tbk (ANJ) to propose a new approach to social investment. The approach was intended to be introduced in the ANJ palm plantation concession area in South Sorong, West Papua.
Joyful Yunus Goes to School
22 Nov 2016
Apart from providing health services and organic farming training, PT Austindo Nusantara Jaya Tbk (ANJ) also provides a learning facility for pre-school children in Sorong, West Papua, called Robate Day Care.
Education for A Brighter Future
17 Nov 2016
School is a luxury in the village of Saga, Metamani District, South Sorong, West Papua. In this village most children drop out of school after completing elementary or junior high school.