Joyful Yunus Goes to School
22 Nov 2016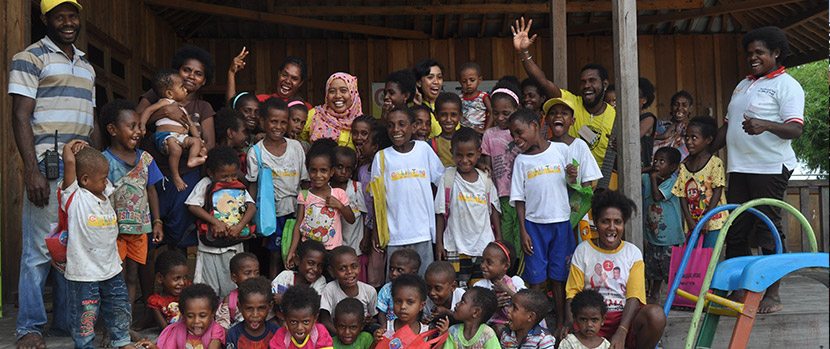 Apart from providing health services and organic farming training, PT Austindo Nusantara Jaya Tbk (ANJ) also provides a learning facility for pre-school children in Sorong, West Papua, called Robate Day Care. Built in 2014 on the riverbank of Robate River, where PT Putra Manunggal Perkasa (PMP) is located, Robate Day Care accommodates children specifically from Sumano, Benawa Satu and Kauri villages.
The children from these villages are not yet proficient in reading, writing and arithmetic, since their teachers come from other villages with unregular teaching schedule. Most of the children's parents work at PT PMP and PT Permata Putra Mandiri (PPM), ANJ subsidiaries.
ANJ works together with the Center for Early Childhood Information and Service/Pusat Informasi dan Pelayanan Anak Usia Dini (PIPAUD) which is based in Yogyakarta, to develop Robate Day Care. "After the first year, the children have overcome their shyness and can tell a story in front of the class," said Nindyah Rengganis of PIPAUD.
Yunus Hohane of Sumano village is an interesting case. The four- year- old boy now often enthusiastically tells a story about his mother or father in front of the class. He eagerly raises his hand to answer questions from the teacher. When Mr. Mikael picks up Yunus in his truck every morning, he is always ready, completely dressed. Then, laughing along the way, he will tell stories.
One day, Rengganis brought zalacca palm fruits (salak) and oranges from Yogyakarta to the Day Care. All of the seventy pupils happily counted and ate them. They collected the fruit seeds and then planted these in their back yard. In addition to the reading and arithmatic learning, on Friday, the children are introduced and taught about the culture of Papua.
Other Articles
Towards A Self-Reliant Community
29 Nov 2016
The program is called South Sorong Community Mentoring Program. Yayasan Indonesia Lebih Baik (YILB) and Yayasan Pengembangan Pendidikan dan Telematika Indonesia (YPPTI) created the program when they were challenged by PT Austindo Nusantara Jaya Tbk (ANJ) to propose a new approach to social investment. The approach was intended to be introduced in the ANJ palm plantation concession area in South Sorong, West Papua.
Green Schools in Belitung
28 Nov 2016
As a company that is committed to elevating people's lives, PT Sahabat Mewah dan Makmur (SMM) values education as a basic foundation to build an ideal community. It also aligns with the Company's mission to empower the community as equal partners.
Education for A Brighter Future
17 Nov 2016
School is a luxury in the village of Saga, Metamani District, South Sorong, West Papua. In this village most children drop out of school after completing elementary or junior high school.