ANJ-CIRAD-BARFormula Study on Composting Innovation Published in Prominent Journal
20 Jul 2020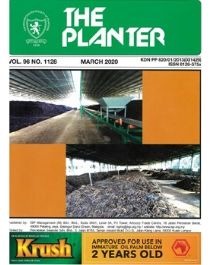 A study on waste management at ANJ, conducted in partnership with CIRAD and BARFormula, was published in the March 2020 issue of The Planter journal, a prominent monthly publication of the Incorporated Society of Planters. ANJ is proud of the recognition from the plantation community and is pleased to play a role in the dissemination of environmentally sustainable practices and innovations.
This article explains about waste reduction and nutrient recovery during co-composting of Empty Fruit Bunches (EFB) and Palm Oil Mill Effluents (POME), two of the main palm oil mill by-products. The experiment was carried out in May-July 2016 in one of ANJ's mill in Belitung Island and aimed to find out the conditions that allows the most effective reduction of liquid and solid waste.
As part of its Zero Waste Policy, ANJ has applied the innovative practice of co-composting EFB and POME in Belitung to produce organic fertilizers. This is then used as a replacement for conventional fertilizer, leading to a 29% reduction in the use of inorganic applications. It is hoped the study results can further disseminate the practice and contribute to the improvement of waste management in the palm oil sector. ANJ will continue to invest in agronomy research and welcomes cooperation with research organizations and universities to further advance the field.
The full study article can be found in the link below.
The Planter March 2020 - Composting Paper
Other Articles
ANJ Dukung Pekan Sagu Nusantara 2020
20 Oct 2020
Jakarta – (20/10) PT Austindo Nusantara Jaya Tbk (ANJ) yang merintis industri sagu di Sorong Selatan, Papua Barat, melalui anak usahanya, PT ANJ Agri Papua, turut mendukung perhelatan Pekan Sagu Nusantara (PSN) untuk mengkampanyekan sagu sebagai pangan sehat asli Indonesia.
Bueno Nasio dalam Webinar Sagu Sebagai Solusi Krisis Global
11 Oct 2020
Menyambut Hari Pangan Sedunia dan "24 Hours of Reality: Countdown to the Future" (dialog global tentang krisis iklim), Yayasan KEHATI bersama Climate Reality Indonesia dan Bueno Nasio mengadakan talkshow & cooking demo "Sagu sebagai Solusi Krisis Global" Bueno Nasio sebagai restoran yang mengandung unsur tepung sagu yang telah diolah secara modern dan higienis oleh PT ANJ Agri Papua (ANJAP) diundang dalam webinar yang diselenggarakan oleh Yayasan KEHATI (11/10). Bekerja sama dengan Climate Reality Indonesia, sebagai perkumpulan yang mengarus utamakan isu krisis iklim dan solusinya, menyambut baik dan mendukung acara Sagu sebagai Solusi Krisis Global," ujar Manajer Climate Reality Indonesia Amanda Katili Niode.
PT GMIT Salurkan Masker KN95 dari Yayasan Tahija Untuk Tenaga Medis di Jember
22 May 2020
Jember – PT Gading Mas Indonesia Teguh (GMIT), unit usaha PT Austindo Nusantara Jaya Tbk (ANJ) yang mengoperasikan pabrik edamame dan sayuran beku, menyalurkan bantuan 2.000 masker KN95 bagi tenaga medis yang berjuang melawan virus Corona di Kabupaten Jember.