ANJ-CIRAD-BARFormula Study on Composting Innovation Published in Prominent Journal
20 Jul 2020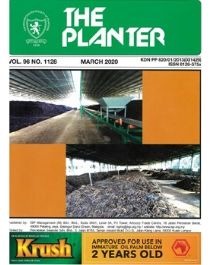 A study on waste management at ANJ, conducted in partnership with CIRAD and BARFormula, was published in the March 2020 issue of The Planter journal, a prominent monthly publication of the Incorporated Society of Planters. ANJ is proud of the recognition from the plantation community and is pleased to play a role in the dissemination of environmentally sustainable practices and innovations.
This article explains about waste reduction and nutrient recovery during co-composting of Empty Fruit Bunches (EFB) and Palm Oil Mill Effluents (POME), two of the main palm oil mill by-products. The experiment was carried out in May-July 2016 in one of ANJ's mill in Belitung Island and aimed to find out the conditions that allows the most effective reduction of liquid and solid waste.
As part of its Zero Waste Policy, ANJ has applied the innovative practice of co-composting EFB and POME in Belitung to produce organic fertilizers. This is then used as a replacement for conventional fertilizer, leading to a 29% reduction in the use of inorganic applications. It is hoped the study results can further disseminate the practice and contribute to the improvement of waste management in the palm oil sector. ANJ will continue to invest in agronomy research and welcomes cooperation with research organizations and universities to further advance the field.
The full study article can be found in the link below.
The Planter March 2020 - Composting Paper
Other Articles
GMIT BERBAGI PRAKTIK BAIK AKSI SDGS PERUSAHAAN DI FORUM UNEJ STAKEHOLDER TALK
04 Dec 2023
Jakarta – PT Gading Mas Indonesia Teguh (GMIT), anak usaha PT Austindo Nusantara Jaya Tbk. (ANJ) yang berlokasi di Jember, Jawa Timur baru-baru ini mendukung acara Universitas Jember (UNEJ) Stakeholder Talk SGDs. Rahmad Hidayat Yusuf, Head of Business Support GMIT, mewakili perusahaan sebagai pembicara pada acara tersebut, yang merupakan bagian dari rangkaian kegiatan SDGs Festival 2023 yang diadakan oleh SDGs Center Universitas Jember bekerja sama dengan Pusat Pengembangan Kampung SDGs Indonesia (PPKSI) dan Keluarga Alumni Universitas Jember (KAUJE), pada Selasa (28/11/2023) di auditorium UNEJ.
ANJ RAIH JUARA ANNUAL REPORT AWARD 2023 KATEGORI PERUSAHAAN GO PUBLIK NON KEUANGAN
29 Nov 2023
Jakarta – Komitmen PT Austindo Nusantara Jaya Tbk. (ANJ) dalam keterbukaan informasi dan menjalankan praktik bisnis dengan pendekatan Good Corporate Governance (GCG) dan prinsip keberlanjutan, mendapat apresiasi. Kali ini, ANJ menerima penghargaan Annual Report Award (ARA) 2023 pada kategori Perusahaan Go Publik Non Keuangan dengan predikat Juara 3 yang diselenggarakan pada Senin (27/11) di Main Hall, Gedung Bursa Efek Indonesia (BEI) di Jakarta. Penghargaan diserahkan langsung oleh Wakil Ketua Komite Nasional Kebijakan Governance (KNKG) dan Ketua Panitia Pelaksana ARA 2022, Sigit Pramono kepada Lucas Kurniawan, Direktur Utama ANJ.
PPM RAIH APRESIASI DARI BANK INDONESIA PERWAKILAN PAPUA BARAT
22 Nov 2023
Sorong – PT Permata Putera Mandiri (PPM), salah satu unit usaha PT Austindo Nusantara Jaya Tbk. (ANJ) yang berada di Kabupaten Sorong Selatan baru-baru ini meraih penghargaan dari kantor perwakilan Bank Indonesia (BI) Provinsi Papua Barat untuk kategori Responden Liaison Terkolaboratif Tahun 2023. Penghargaan ini diberikan sebagai bentuk pengakuan terhadap kontribusi PPM dalam menyediakan data selama tahun 2023. Kepala BI, Rommy S Tamawiwy, secara langsung memberikan penghargaan ini kepada perwakilan PPM, Gritje Fonataba, dalam acara Temu Responden yang berlangsung di salah satu hotel di Kota Sorong pada Jumat (17/10).