ANJ-CIRAD-BARFormula Study on Composting Innovation Published in Prominent Journal
20 Jul 2020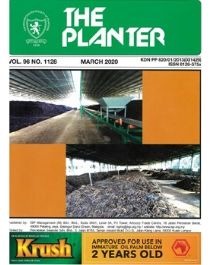 A study on waste management at ANJ, conducted in partnership with CIRAD and BARFormula, was published in the March 2020 issue of The Planter journal, a prominent monthly publication of the Incorporated Society of Planters. ANJ is proud of the recognition from the plantation community and is pleased to play a role in the dissemination of environmentally sustainable practices and innovations.
This article explains about waste reduction and nutrient recovery during co-composting of Empty Fruit Bunches (EFB) and Palm Oil Mill Effluents (POME), two of the main palm oil mill by-products. The experiment was carried out in May-July 2016 in one of ANJ's mill in Belitung Island and aimed to find out the conditions that allows the most effective reduction of liquid and solid waste.
As part of its Zero Waste Policy, ANJ has applied the innovative practice of co-composting EFB and POME in Belitung to produce organic fertilizers. This is then used as a replacement for conventional fertilizer, leading to a 29% reduction in the use of inorganic applications. It is hoped the study results can further disseminate the practice and contribute to the improvement of waste management in the palm oil sector. ANJ will continue to invest in agronomy research and welcomes cooperation with research organizations and universities to further advance the field.
The full study article can be found in the link below.
The Planter March 2020 - Composting Paper
Other Articles
Dinas Penanaman Modal Kunjungi Grup ANJ di Sorong Selatan
04 Oct 2021
Sorong Selatan - Untuk memastikan investasi, Kepala Dinas Penanaman Modal Perijinan Terpadu Satu Pintu (DPM-PTSP) Kabupaten Sorong Selatan, Ananias Wetaku beserta jajarannya, telah melakukan kunjungan kerja ke tiga anak perusahaan PT Austindo Nusantara Jaya Tbk (ANJ), yaitu PT Permata Putera Mandiri (PPM), PT Putera Manunggal Perkasa (PMP) dan PT ANJ Agri Papua (ANJAP).
PMP & PPM Gelar Vaksinasi Dosis Pertama bagi Karyawan dan Masyarakat
07 Sep 2021
Sorong Selatan – PT Austindo Nusantara Jaya (ANJ) melalui unit usahanya PT Putera Manunggal Perkasa (PMP) dan PT Permata Putera Mandiri (PPM) bekerja sama dengan Dinas Kesehatan Kabupaten Sorong Selatan, Polres Sorong Selatan dan Kodim 1807/Sorong Selatan, menggelar vaksinasi dosis pertama di Hexagon pada 7/9 – 10/9.
SMM DAN KEMENPERIN JALIN KERJA SAMA MAJUKAN SDM TERAMPIL
07 Sep 2021
Belitung Timur – Poltak Evencus Hutajulu, Direktur Pendidikan Teknologi Kimia Industri (PTKI) Medan dan Juli Wankara Purba, Resident Director PT Sahabat Mewah dan Makmur (SMM), anak perusahaan PT Austindo Nusantara Jaya Tbk (ANJ) yang berlokasi di Belitung Timur, menandatangani Memorandum of Understanding pada Senin (6/9/2021) di ANJ Learning Center, Belitung, untuk menjalin kerja sama dalam penyelenggaraan dan pengembangan program pendidikan vokasi setara Diploma-I.