ANJ-CIRAD-BARFormula Study on Composting Innovation Published in Prominent Journal
20 Jul 2020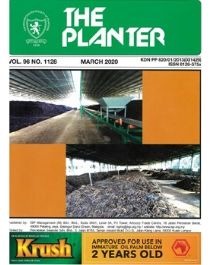 A study on waste management at ANJ, conducted in partnership with CIRAD and BARFormula, was published in the March 2020 issue of The Planter journal, a prominent monthly publication of the Incorporated Society of Planters. ANJ is proud of the recognition from the plantation community and is pleased to play a role in the dissemination of environmentally sustainable practices and innovations.
This article explains about waste reduction and nutrient recovery during co-composting of Empty Fruit Bunches (EFB) and Palm Oil Mill Effluents (POME), two of the main palm oil mill by-products. The experiment was carried out in May-July 2016 in one of ANJ's mill in Belitung Island and aimed to find out the conditions that allows the most effective reduction of liquid and solid waste.
As part of its Zero Waste Policy, ANJ has applied the innovative practice of co-composting EFB and POME in Belitung to produce organic fertilizers. This is then used as a replacement for conventional fertilizer, leading to a 29% reduction in the use of inorganic applications. It is hoped the study results can further disseminate the practice and contribute to the improvement of waste management in the palm oil sector. ANJ will continue to invest in agronomy research and welcomes cooperation with research organizations and universities to further advance the field.
The full study article can be found in the link below.
The Planter March 2020 - Composting Paper
Other Articles
ANJ DUKUNG INDONESIA HIDUP LEBIH SEHAT DENGAN SAGU
04 Jan 2021
Jakarta, 30 Desember 2020 - Sagu merupakan salah satu makanan pokok bagi masyarakat di Indonesia bagian timur, terutama di Papua dan Maluku. Sagu bisa diolah dalam berbagai macam bentuk, mulai dari tepung, gula, bahkan beras sagu. Sebagai salah satu makanan pokok masyarakat di Indonesia Timur, sagu memang memiliki nutrisi yang baik bagi tubuh.
Grup ANJ Raih Berbagai Penghargaan Bisnis Berkelanjutan di Tahun 2020
18 Dec 2020
Jakarta, 18 Desember 2020 - Komitmen Grup ANJ dalam menjalankan prinsip pengembangan bertanggung jawab dan keberlanjutan berbuah pengakuan dengan diraihnya peringkat "Platinum" dalam ajang Asia Sustainability Reporting Rating (ASRRAT) 2020 dan diterimanya anugerah PROPER Emas dari Kementerian Lingkungan Hidup dan Kehutanan (KLHK) Republik Indonesia untuk periode 2019/2020 . PT Sahabat Mewah Makmur (SMM), salah satu anak perusahaan dari Grup ANJ, mencatat sejarah sebagai perkebunan kelapa sawit pertama yang menerima PROPER Emas.
SMM BAGIKAN HARGA PREMIUM MINYAK SAWIT BERSERTIFIKAT RSPO KEPADA KOPERASI MITRA
30 Nov 2020
Jakarta – (26/11) PT Sahabat Mewah dan Makmur (SMM) salah satu anak perusahaan PT Austindo Nusantara Jaya Tbk (ANJ) yang berlokasi di pulau Belitung baru baru ini menyerahkan pembagian harga premium minyak sawit berkelanjutan untuk petani kemitraan.