ANJ DISTRIBUTES AID FOR FLOOD VICTIMS IN SORONG
26 Aug 2022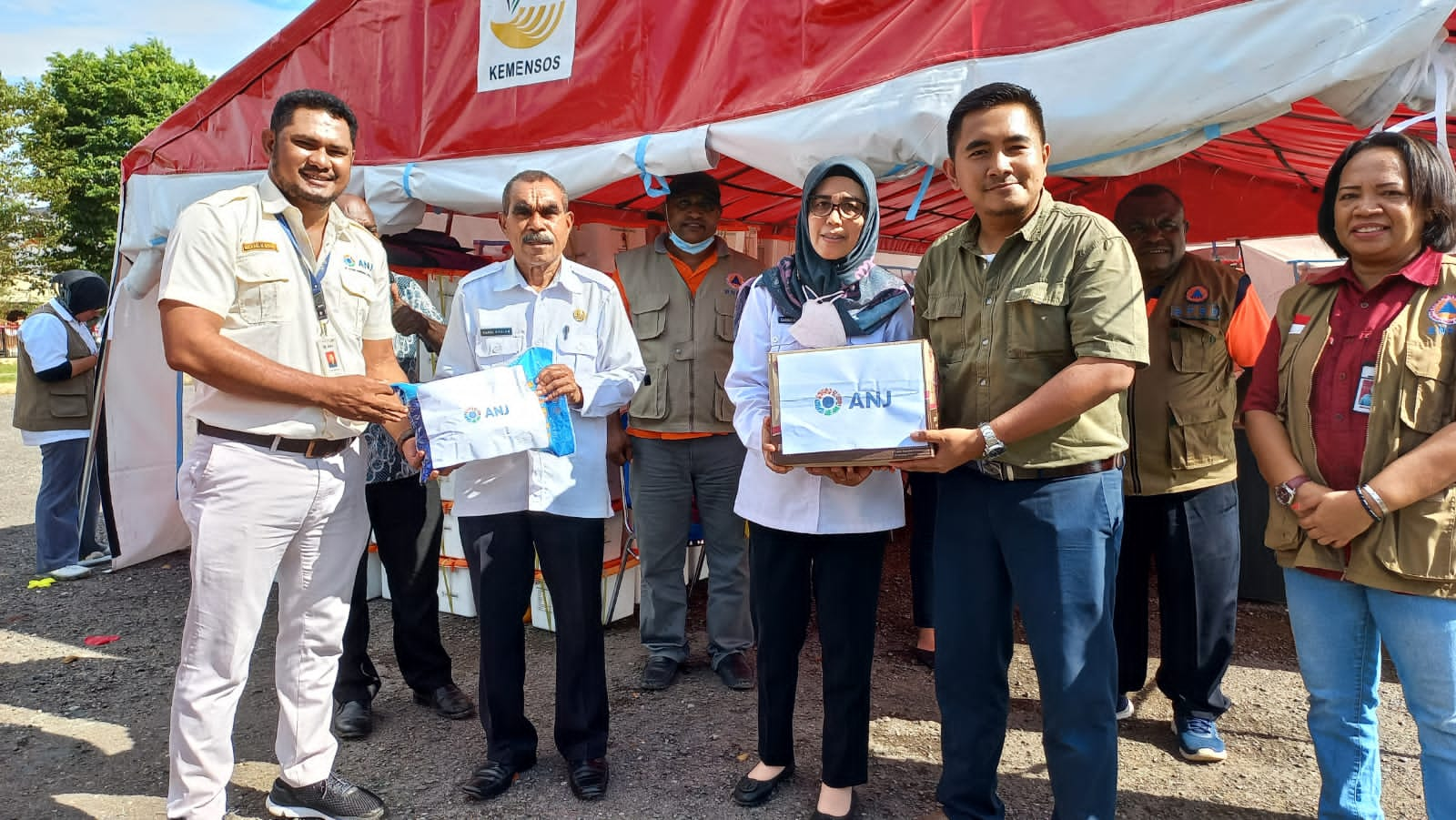 Sorong Selatan, 26 Agustus 2022 –
Following the recent floods and landslides that struck the Sorong City and District, West Papua Province, PT Austindo Nusantara Jaya Tbk (ANJ) participated in distributing basic food assistance for victims through ANJ's regional office located in South Sorong on Wednesday (24/8).
The assistance was handed over directly by Adji Shandy Maximillian, Procurement & Logistics Manager, as the representative of the ANJ Group to Karel Gifelem, Secretary of Sorong City at the flood and landslide disaster post at the Sorong Mayor's office.
"I would like to express my gratitude for the assistance provided by ANJ Group for victims directly affected by this disaster. We hope all elements of society will continue caring for people who were affected by disasters," said Karel Gifelem. Karel also said that all aid would be distributed to public kitchens and five refugee camps that accommodate 2000 Sorong residents.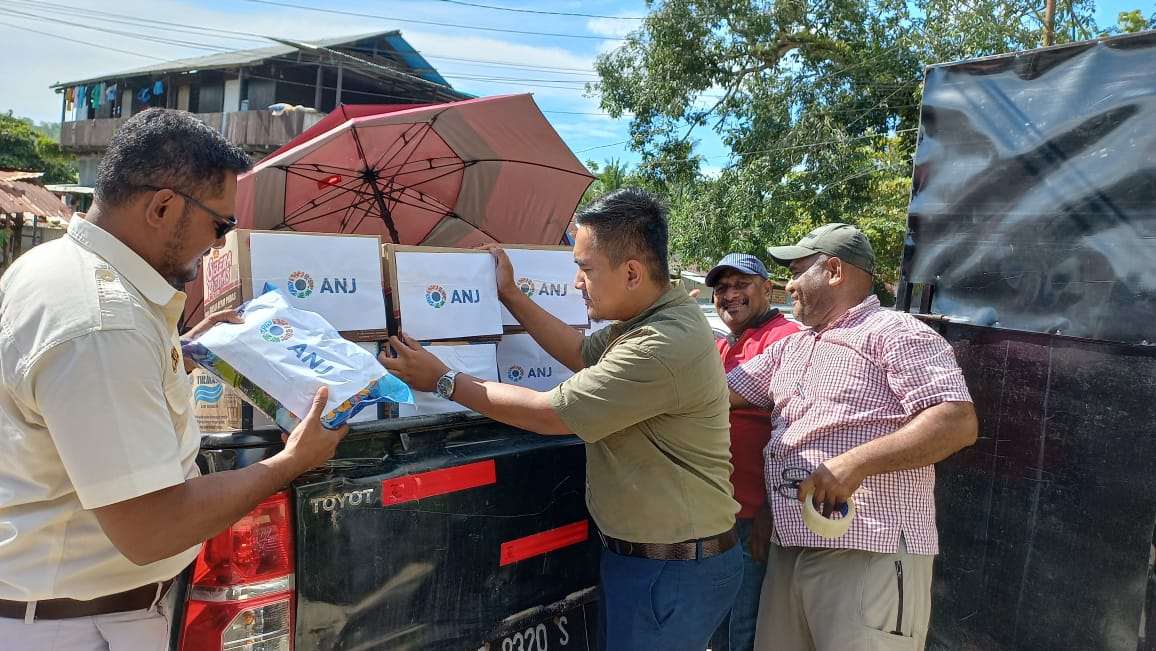 Gritje Fonataba, ANJ's Head of Government and Stakeholder Relations for the Papua region, hopes that the ANJ Group's assistance will be useful in easing the burden of flood victims in the City and District of Sorong.
"The flood disaster that struck the city of Sorong this time was unavoidable for our brothers and sisters who were directly affected and, in fact, also experienced by ANJ employees. We hope that the food assistance can help ease the burden of the flood victims. This basic food assistance is also distributed to ANJ employees directly affected by the disaster," said Gritje.
The floods and landslides following heavy rains that hit the city of Sorong from Monday night (22/8) to Tuesday (23/8) have paralyzed the residents' activities.
Other Articles
GMIT BERBAGI PRAKTIK BAIK AKSI SDGS PERUSAHAAN DI FORUM UNEJ STAKEHOLDER TALK
04 Dec 2023
Jakarta – PT Gading Mas Indonesia Teguh (GMIT), anak usaha PT Austindo Nusantara Jaya Tbk. (ANJ) yang berlokasi di Jember, Jawa Timur baru-baru ini mendukung acara Universitas Jember (UNEJ) Stakeholder Talk SGDs. Rahmad Hidayat Yusuf, Head of Business Support GMIT, mewakili perusahaan sebagai pembicara pada acara tersebut, yang merupakan bagian dari rangkaian kegiatan SDGs Festival 2023 yang diadakan oleh SDGs Center Universitas Jember bekerja sama dengan Pusat Pengembangan Kampung SDGs Indonesia (PPKSI) dan Keluarga Alumni Universitas Jember (KAUJE), pada Selasa (28/11/2023) di auditorium UNEJ.
ANJ RAIH JUARA ANNUAL REPORT AWARD 2023 KATEGORI PERUSAHAAN GO PUBLIK NON KEUANGAN
29 Nov 2023
Jakarta – Komitmen PT Austindo Nusantara Jaya Tbk. (ANJ) dalam keterbukaan informasi dan menjalankan praktik bisnis dengan pendekatan Good Corporate Governance (GCG) dan prinsip keberlanjutan, mendapat apresiasi. Kali ini, ANJ menerima penghargaan Annual Report Award (ARA) 2023 pada kategori Perusahaan Go Publik Non Keuangan dengan predikat Juara 3 yang diselenggarakan pada Senin (27/11) di Main Hall, Gedung Bursa Efek Indonesia (BEI) di Jakarta. Penghargaan diserahkan langsung oleh Wakil Ketua Komite Nasional Kebijakan Governance (KNKG) dan Ketua Panitia Pelaksana ARA 2022, Sigit Pramono kepada Lucas Kurniawan, Direktur Utama ANJ.
PPM RAIH APRESIASI DARI BANK INDONESIA PERWAKILAN PAPUA BARAT
22 Nov 2023
Sorong – PT Permata Putera Mandiri (PPM), salah satu unit usaha PT Austindo Nusantara Jaya Tbk. (ANJ) yang berada di Kabupaten Sorong Selatan baru-baru ini meraih penghargaan dari kantor perwakilan Bank Indonesia (BI) Provinsi Papua Barat untuk kategori Responden Liaison Terkolaboratif Tahun 2023. Penghargaan ini diberikan sebagai bentuk pengakuan terhadap kontribusi PPM dalam menyediakan data selama tahun 2023. Kepala BI, Rommy S Tamawiwy, secara langsung memberikan penghargaan ini kepada perwakilan PPM, Gritje Fonataba, dalam acara Temu Responden yang berlangsung di salah satu hotel di Kota Sorong pada Jumat (17/10).