COLLABORATION: KEY TO THE SUCCESSFUL ACHIEVEMENT OF THE SDGS
06 Dec 2022
Jakarta, December 7, 2022 - Collaboration with the government is the key to the non-government sector's success in achieving the Sustainable Development Goals (SDGs). This message was presented during the panel session at the "SDGs Festival of Government and Non-Government Collaboration in Supporting the Achievement of SDGs," held on December 2, 2022. The event was part of the SDGs Annual Conference 2022, which took place in a hybrid manner at The Sultan Hotel Jakarta, organized by the Ministry of National Development Planning Republic of Indonesia/National Development Planning Agency (Kementerian PPN/Bappenas).
The panel discussion session was attended by keynote speakers Frederik Hendrik Runaweri, Head of the West Papua Provincial Forestry Service, representing the Acting Governor of West Papua, and Lucas Kurniawan, President Director of PT Austindo Nusantara Jaya Tbk. (ANJ). Musdhalifah Machmud, the Deputy Minister for Food and Agriculture at the Coordinating Ministry for Economic Affairs for the Republic of Indonesia, and Binny Buchori, the Executive Board of The PRAKARSA, served as responders. Yanuar Nugroho, Coordinator of the SDGs National Secretariat Expert Team, moderated the discussion.
In her opening speech, Vivi Yulaswati, Head of the National Secretariat for SDGs at the Ministry of National Development Planning/Bappenas, emphasized that sustainable development necessitates collaboration among development actors. She emphasized the need for concrete steps and collaboration from all stakeholders to accelerate the achievement of the SDGs, particularly by strengthening the regulatory framework through Presidential Decree No. 111 of 2022 on the SDGs.
Lucas Kurniawan said that ANJ places a high value on consulting and collaborating with the government and other stakeholders to achieve sustainable development in its operations. He explained that the regional government's understanding of current challenges and how to address them is invaluable, and ANJ strives to implement relevant work programs accordingly.
Since 2010, ANJ has been present in the Province of West Papua, applying the Responsible Development approach, which focuses on natural sustainability and, importantly, the development of the surrounding community in alignment with the SDGs.
Meanwhile, Frederik Hendrik Runaweri expressed his appreciation for ANJ's presence in West Papua, emphasizing their positive contributions, particularly in environmental and biodiversity protection.
"The forest area in West Papua has extraordinary resources, ranging from timber forests and mining to oil palm plantations, including those managed by ANJ. Therefore, in carrying out sustainable development, the government cannot do it alone; collaboration is essential," said Frederik.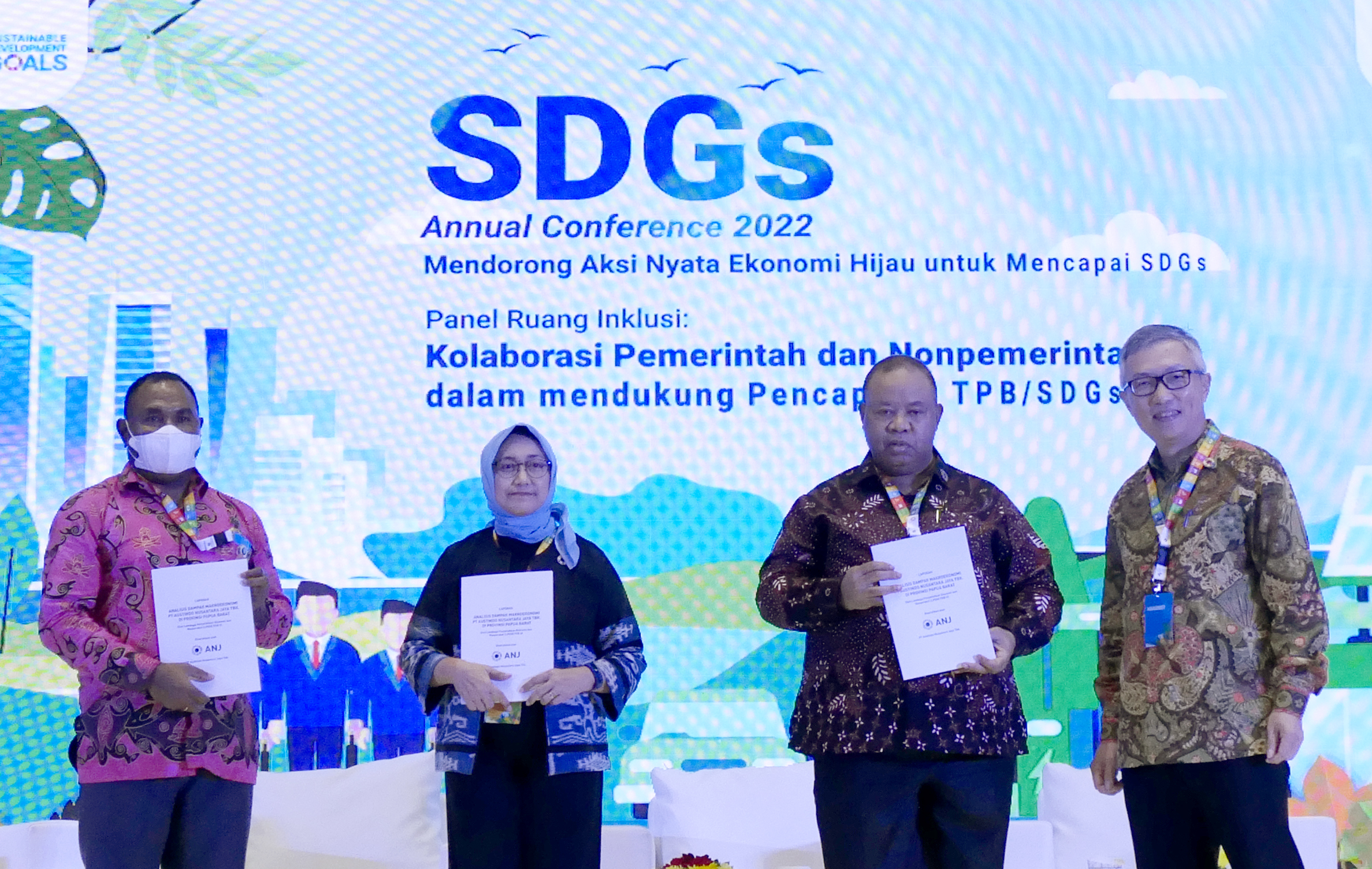 The panel discussion concluded with the presentation of ANJ's Macroeconomic Impact Analysis Report in West Papua Province, conducted by the Institute for Economic and Social Research, Faculty of Economics and Business, University of Indonesia. Lucas Kurniawan presented the report to the keynote speakers, responders, and moderators.
The LPEM-FEB UI study concluded that the activities of ANJ's subsidiary in West Papua between 2010-2021 provided a total stimulus at the national level of IDR 4.5 trillion and generated output in the economy of IDR 7.6 trillion, with a multiplier effect of 1.5 times. At the provincial level, the multiplier effect is 1.2 times, while in South Sorong and Maybrat Regencies, it is 1.1 and 1.2 times, respectively. The unemployment rate in South Sorong has decreased by 5.66%, and the poverty rate has also reduced by 16.6%. Meanwhile, in Maybrat, the unemployment rate has decreased by 5.22%, and the poverty rate has decreased by 10.1%.
Other Articles
GMIT BERBAGI PRAKTIK BAIK AKSI SDGS PERUSAHAAN DI FORUM UNEJ STAKEHOLDER TALK
04 Dec 2023
Jakarta – PT Gading Mas Indonesia Teguh (GMIT), anak usaha PT Austindo Nusantara Jaya Tbk. (ANJ) yang berlokasi di Jember, Jawa Timur baru-baru ini mendukung acara Universitas Jember (UNEJ) Stakeholder Talk SGDs. Rahmad Hidayat Yusuf, Head of Business Support GMIT, mewakili perusahaan sebagai pembicara pada acara tersebut, yang merupakan bagian dari rangkaian kegiatan SDGs Festival 2023 yang diadakan oleh SDGs Center Universitas Jember bekerja sama dengan Pusat Pengembangan Kampung SDGs Indonesia (PPKSI) dan Keluarga Alumni Universitas Jember (KAUJE), pada Selasa (28/11/2023) di auditorium UNEJ.
ANJ RAIH JUARA ANNUAL REPORT AWARD 2023 KATEGORI PERUSAHAAN GO PUBLIK NON KEUANGAN
29 Nov 2023
Jakarta – Komitmen PT Austindo Nusantara Jaya Tbk. (ANJ) dalam keterbukaan informasi dan menjalankan praktik bisnis dengan pendekatan Good Corporate Governance (GCG) dan prinsip keberlanjutan, mendapat apresiasi. Kali ini, ANJ menerima penghargaan Annual Report Award (ARA) 2023 pada kategori Perusahaan Go Publik Non Keuangan dengan predikat Juara 3 yang diselenggarakan pada Senin (27/11) di Main Hall, Gedung Bursa Efek Indonesia (BEI) di Jakarta. Penghargaan diserahkan langsung oleh Wakil Ketua Komite Nasional Kebijakan Governance (KNKG) dan Ketua Panitia Pelaksana ARA 2022, Sigit Pramono kepada Lucas Kurniawan, Direktur Utama ANJ.
PPM RAIH APRESIASI DARI BANK INDONESIA PERWAKILAN PAPUA BARAT
22 Nov 2023
Sorong – PT Permata Putera Mandiri (PPM), salah satu unit usaha PT Austindo Nusantara Jaya Tbk. (ANJ) yang berada di Kabupaten Sorong Selatan baru-baru ini meraih penghargaan dari kantor perwakilan Bank Indonesia (BI) Provinsi Papua Barat untuk kategori Responden Liaison Terkolaboratif Tahun 2023. Penghargaan ini diberikan sebagai bentuk pengakuan terhadap kontribusi PPM dalam menyediakan data selama tahun 2023. Kepala BI, Rommy S Tamawiwy, secara langsung memberikan penghargaan ini kepada perwakilan PPM, Gritje Fonataba, dalam acara Temu Responden yang berlangsung di salah satu hotel di Kota Sorong pada Jumat (17/10).