Maintaining Balok Site through Conservation
01 Dec 2016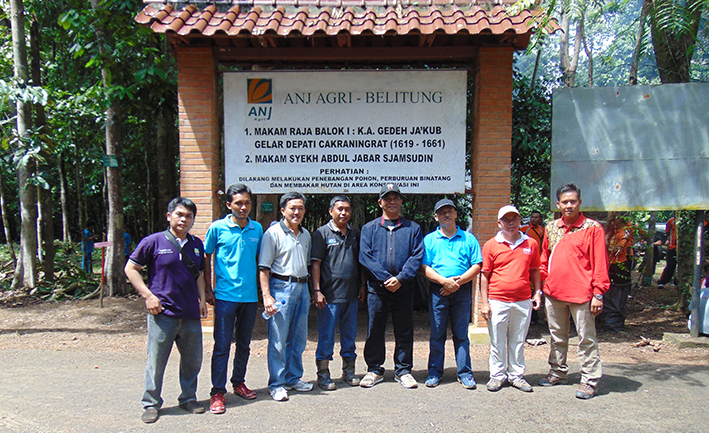 The Balok Village in East Belitung, has its own charm. At PT Sahabat Mewah dan Makmur (SMM), where the subsidiary of ANJ is located, lies the Balok Kingdom archaeological site. ANJ Group is committed to maintain the site, which houses the last remnants of the kingdom in Belitung, through its conversation program.
Despite being neglected for decades, we can still see remnants of the Balok Kingdom site, which at one time was the largest kingdom in Belitung. Located within the concession area of SMM, the 40-hectare site consists of the tombs of the kings of Balok and the ruins of the former royal pavilion.
In managing its concession area (HGU), ANJ Group is committed to conserving its natural and social environment and this is exemplified through the allocation of 1,568.49 hectares as a conservation area, which covers the Balok Site forest and river boundaries.
"As a stakeholder and the fact that Balok Site is located in the SMM HGU area, the company must manage it in accordance to its benefits and conservation values," said Sucipto Maridjan, SMM Director. The company, he said, is fully responsible for protecting and maintaining its conservation areas.
ANJ Group's commitment to care for the environment and society is enshrined in the intrinsic values ​​that are held high in the conduct of its business. In 2005, SMM constructed a gate named K.A. Gedeh Ja'kub (Raja Balok I) and Syekh Abdul Jabar Sjamsudin (Ulama) at the entrance to the tomb area.
This effort is motivated by the company's care for the condition of the tomb, which at a time was poorly maintained. SMM then began routinely clearing access roads to the tombs and other areas. Soon after that, the Balok Site displayed its charm after the local government built facilities and infrastructure within the site.
SMM played a role in coordinating discussions between the Balok village leaders, the local community, and Ki Sakri, the custodian of the Balok Site
Apart from conserving the Balok historical site and its surrounding environment, SMM also played a role to enhance the local community's livelihood by forming partnership through five cooperatives for smallholders.
"This partnership is one of the company's vision and mission to help the community improve its economy," added Sucipto.
Other Articles