Training & Education
We are committed to investing in our workforce so they have the right skills and a healthy culture in which to thrive. Highly skilled and motivated employees are a vital component for our success. We invest in our people and help them grow as skilled professionals with the necessary competencies to learn from and respond to sustainability challenges. Our training and development program is designed to help our employees improve their skills, achieve their career goals, and meet the requirements to do their work. All employees are given equal opportunities to receive training and professional development programs, which begin from the first day they join the company and continue throughout their employment period.
Five categories of training are provided:
• Core training: mandatory for all employees, featuring the Company's values, code of conducts and safety knowledge.
• Technical training: enhancing employees' technical capabilities to improve performance in their roles.
• Soft skills training: improving employee teamwork and organizational skills to help collaborate effectively within the organization and with external parties.
• Leadership and supervisory program: preparing our employees to lead units, teams and divisions and as potential future leaders of the Company.
• Certification program: Ensuring and standardizing employees' technical proficiency in specific skills related to their job function.
Training sessions are carried out internally involving Managers and General Managers as internal trainers, who are competent in their fields as Subject Matter Experts (SME) and are certified facilitators and mentors. Our Learning and Development Department also provides training on how to prepare training materials and syllabi, ensuring standardized high-quality materials are produced for our training program. For several competencies, training is outsourced to external trainers.
Average Training Hours by Gender and Employee Category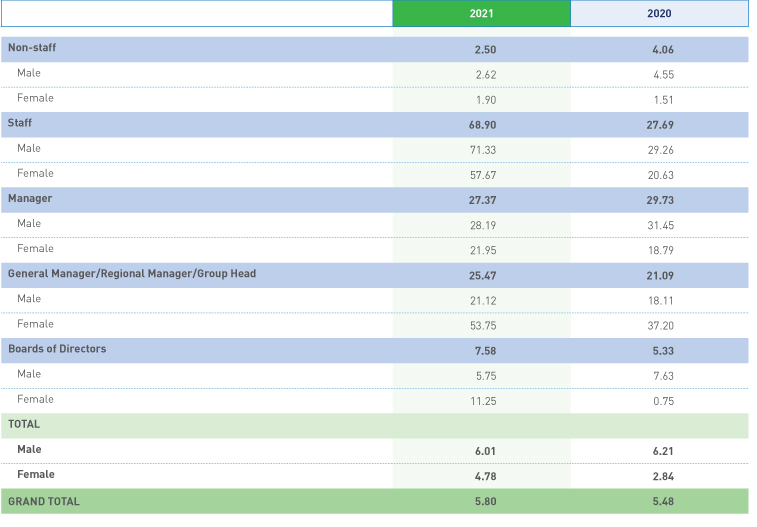 Training Hours by Training Type in 2021